We've probably all done it.
You pull the knitting out of your bag but it doesn't all come at once!
The needles appear and dangling from the end is a row of stitches, all loose and ready to unravel at the lightest touch….
So what would Ford Prefect say?
'don't panic!' the first rule of the Hitch-Hikers Guide To Knitting says the same thing!
When there's a mishap in your knitting, keep a cool head and take a step back.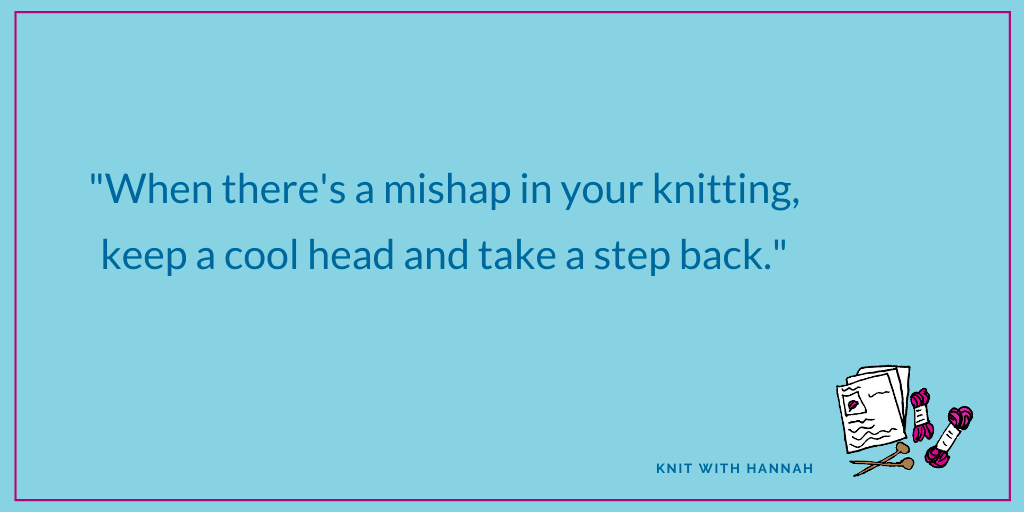 If you pull at it erratically and try to fix it while stressed, the likelihood is that you'll make the problem worse.
So my solution is to arm yourself with as many mistake-fixing techniques as possible. You'll be right on your way to laugh it off and fix it quickly, easily and most importantly calmly too.
This simple technique that I'll show you today gives you two chances to make sure the stitches are all sitting on the needle facing the right direction.
To subscribe to the Knit With Hannah YouTube channel click here
I hope you'll join me for a free Beginner Knitters Workshop next Friday (16th January 2020)
We'll be chatting about finding confidence as a beginner knitter.
Sign up here to join me on the day – it's online, so no matter where you are in the world you can be there and you'll be able to ask questions live too.